With the beautiful blossoms of spring surrounding us and the opening of the Rockies season, we know we are moving toward the end of the legislative session. With less than a month left to go in the session, we have turned out attention to the two biggest finance bills of the year: the "Long Bil," which is the annual state budget, and School Finance legislation (Amendment 23). The legislature is constitutionally required to pass both the annual appropriations bill and approve inflation driven mandatory school funding increases.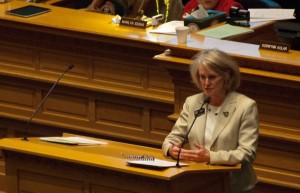 The Budget Bill
The good news is that the Colorado economy has begun to grow again at a moderate pace and the revenue forecast for next year has improved slightly. The bad news is that the rate of recovery is not fast enough to restore all the cuts that we have sustained over the last three years. As legislators we need to work together to create jobs for the people of Colorado and support the most economically vulnerable residents of our state.
This week we passed a balanced budget on a broad, bipartisan 64-1 vote approving a $7.5 billion General Fund. During the debate Wed. night, House Democrats fought for job creation, affordable housing, veterans, resources for our classrooms, and Colorado small businesses. These are some of the significant features of the budget bill:
– Restore the Senior Homestead Property Tax Exemption at a cost of $97 million. Seniors 65 and older can exempt 50% of the first $200,000 of their property value if they have lived in the home for 10 years or more.
– Eliminate $54.2 million in cuts to higher education to make college tuition more affordable and allow students to graduate with less student loan debt. This is, however, still a $5.8 million cut from last year.
– Increase funding by $11 million for people with developmental disabilities. This includes 193 placements in waiver programs, reducing the size of the waiting list. The waiting list, sadly, will still have 5,000 people on it.
– Increase funding for Old Age Pension programs by $9.7 million, including a cost-of-living increase and restoring dental benefits. This increase in funding will reach our most vulnerable seniors.
– Add $3 million to the Governor's Energy Office to support green jobs in renewable energy.
– Restore the 2.5% state matching funds to retirement accounts and pay for medical and dental insurance premium increases for state employees.
The School Finance Act
The Colorado School Finance Act distributes about $5.2 billion per year in state and local dollars to the state's 178 school districts for K -12 public education. The money is distributed according to a formula that takes into account the individual characteristics of a district (e.g. urban vs. rural). For four years now we have had to cut education dollars. Thankfully, this year the proposal includes an:
– Increase in funding for primary and secondary schools by $57.2 million in order to fully fund enrollment growth and keep per pupil funding close to FY 2011-12 levels. Due to four successive years of education cuts, this level of funding is still 17%, or $1 billion, below where it would have been. Because of increased numbers of students, the per pupil funding will be about $70 less than last year's funding.
Making the Budget More Efficient
Several bills this session, while not strictly budget bills, will make state expenditures more efficient and help us balance the state budget. For example, some bills reallocate money to the programs that need it most: HB 1341 transfers unused TANF money (Temporary Aid to Needy Families) to the local level to shore up county funding. Other bills reduce currently required expenditures, such as HB 1337 which closes a state prison. I intend to introduce a late bill to use excess funds from medical marijuana card holder fees to fund additional MMJ inspectors in the Department of Revenue and to support a youth violence prevention program.
House Dems Push For Jobs Creation in Budget Bill
Democrats proposed several amendments to the budget bill to boost 2012 job creation in Colorado.
The jobs measures, introduced as part of a Democratic package of amendments to the state budget bill would:
– Expand the operations of Gov. John Hickenlooper's Economic Development Commission, which offers performance-based incentives to attract new companies to Colorado and retain the ones already here. The amendment would transfer $5.7 million from a fund to expand and revise the CSAP tests – funds which are currently slated to be used two years earlier than is required.
– Create a "Tech Transfer" program to make it easier for Colorado businesses to bring sophisticated new products and services out of the laboratory and into the market, producing more well-paid jobs. Two amendments were offered: one would transfer $5 million from the controlled maintenance fund to fully fund the program; the other would transfer $1.5 million from the same source for partial funding.
– Boost funding for the state's Small Business Development Centers, Colorado's most effective economic development program, by transferring $300,000 from the CSAP fund.
– Fund an "Angel Investor" program which would give tax incentives to venture capitalists who invest in Colorado companies by transferring $250,000 from the CSAP fund.
– Direct the governor's Office of Economic Development and International Trade to give preference to companies based in Colorado and using Colorado workers.
None of these amendments were adopted in the House. So far, the only Democratic jobs proposal to have been passed by the state legislature is HB 1272 the Skills for Jobs Act. This act ensures that Coloradans receiving unemployment insurance benefits are eligible to receive training from a Colorado employer or receive training to start their own business. The bill was signed into law this month by Gov. Hickenlooper.
ADDITIONAL BILLS
While the press loves to emphasize the disagreements at the Capitol, it is noteworthy that over 80% of the bills have passed on a bipartisan basis. Most of the bills introduced are noncontroversial, generally recognized as sound public policy, and garner significant support from both Democrats and Republicans. Some of the more significant or interesting bills are described below.
Since a major focus for all of us has been to stimulate jobs and help the economy, we have passed a business personal property tax exemption, simplified business regulations, codified a cottage foods industry, and authorized a measure that will ensure the Department of Labor and education and vocation programs are communicating about Colorado's job market needs. In addition, we have made delivery of healthcare more efficient and effective by easing procedural requirements and licensing of advanced practice nurses. We have taken steps to address human trafficking, stalking and children's suicide. We have focused on early childhood literacy, fixed some parts of the home foreclosure process, facilitated recycling of electronic waste, and gave college level education credit for experience. We have also passed a law to help local governments earn higher returns on their funds, saving local counties and municipalities millions of dollars.
That being said, politics does enter the legislative process from time to time. Last week, a bill intended to help tens of thousands of inactive voters was killed in committee on a party-line vote, even though the measure had bipartisan sponsorship. SB 12-109 would have eliminated the "Inactive -failed to vote" status and adopted the Post Office's National Change of Address system that is used in 20 states. Because of the defeat of this bill, many seniors, military service members and people who did not vote in the midterm elections in 2010, for any reason, will not receive primary ballots. However, the Senate is re-invigorating this issue and we may yet still have a chance to take legislative action to remedy this. All voters are urged to check their voter registration; and to encourage friends and neighbors to do so, as well, to ensure you are still eligible to vote and/or to receive your mail-in-ballot.