Sine Dine – 2012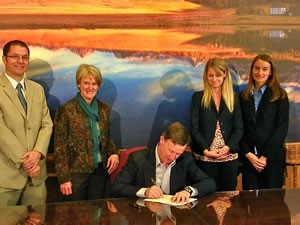 The regular session ended in drama, acrimony, and disappointment when the Republican leadership denied the Civil Unions Bill a vote on the House floor, taking 30 other bills down with it. The Governor called a three day special session to try and undo some of the damage. Here is how it all ended:
The Fate of Civil Unions in Colorado
During the regular session, the civil unions bill successfully passed through the Senate and three House Committees (Judiciary, Finance, and Appropriations), and had enough votes to pass in the full House. In a last ditch effort to kill civil unions, the Republican controlled House deliberately ran down the clock by filibustering other bills and time simply ran out. During the special session, the Speaker sent the bill to the State Affairs Committee where it was voted down (5-4) on a straight party-line vote.
I hoped we were going to pass this historic legislation this year. Public opinion polls show that the people of Colorado support civil unions, there was bipartisan support for the measure inside the Capitol, and the bill itself was moderate and reasonable. I was honored to vote for the bill in the Finance Committee during the regular session and am truly disappointed that I was not able to cast a 'yes' vote on the House floor.
I was also disappointed that we were not able to pass the ASSET bill to allow children of undocumented workers who have attended a Colorado high school for three years and graduated to pay a tuition rate for a Colorado college that is more than an in-state tuition rate but less than an out-of-state rate. The bill passed in the Senate but was killed in the House.
Gov. Hickenlooper signs Rep. McCann's bill that helps to fight human trafficking in Colorado.
Update on My Bills
Overall, this session was a productive one for me. It was disappointing that some of my important bills were killed along the way, but my successes with regards to Human Trafficking, Juvenile Direct File, the 9Health Fair and others are passed bills that I am proud of. To read up on all of my bills, click here.
Other Bills During the 2012 Legislative Session
Despite the disappointment of the last week of the session, we were able to accomplish quite a bit of good work. Before the 2012 legislative session began, House Democrats pledged to partner with Governor Hickenlooper and colleagues across the aisle to support economic recovery with practical solutions and innovative programs and to support Colorado workers and businesses in creating more good paying jobs. We also pledged to fight for a public education system, from preschool through graduate school, which prepares Colorado children for a challenging and changing world. The following report summarizes bills other than mine passed during the 2012 Regular Session.
Creating Jobs and Growing Colorado's Economy
The Skills for Jobs Act – HB 1061 by Rep. Daniel Kagan (D-Englewood) helps ensure that Colorado students get the skills they need to succeed in Colorado's changing economy by connecting colleges and universities with companies to enhance course offerings, and provide a guide to Colorado students so they can receive the right training for the jobs of the future.
Enhanced Employment Training for Unemployed Coloradans – HB 1272 by Reps. Crisanta Duran (D-Denver) and Robert Ramirez (R-Westminster) invests $8 million in enhanced unemployment benefits for Coloradans who want to learn new workforce or entrepreneurial skills so they can return to the workforce or become the jobs creators of tomorrow.
Enterprise Zone Designations – HB 1241 by Rep. Mark Ferrandino (D-Denver) creates a task force to recommend changes to the state's enterprise zone system which has become bloated and inefficient.
Film Production Incentives in Colorado – HB 1286 by Reps. Mark Ferrandino (D-Denver) and Tom Massey (R-Poncha Springs)increases Colorado's film incentive from 10 percent to 20 percent to encourage the film industry to make more movies in Colorado.
Enhanced Economic Development to Create Colorado Jobs – HB 1360 by Reps. Claire Levy (D-Boulder) and Cheri Gerou (R-Evergreen) transfers $4 million to the state Office of Economic Development and International Trade to attract companies to Colorado.
Upholding Our Colorado Values
Medicaid Payment Reform – HB 1281 by Reps. Dave Young (D-Greeley) and Cheri Gerou (R-Evergreen) moves Colorado away from costly fee for service programs toward more cost effective and outcomes oriented payment systems.
Forest Restoration and Wildfire Mitigation – HB 1032 by Rep. Millie Hamner (D-Dillon) reauthorizes a forest restoration program to promote the health of Colorado's beetle-ravaged forests and protect our watersheds, tourist economy and local mountain communities from the devastating impacts of wildfires.
Income Tax Credit for Estate Taxes on Agricultural Land – HB 1042 by Rep. Sal Pace (D-Pueblo) cuts taxes for farmers and ranchers if they paid an inheritance tax if they keep the land in agricultural use.
Promoting Government Accountability
Expanding Government Ethics – HB 1070 by Rep. Cherylin Peniston (D-Westminster) modifies statutory provisions concerning the reporting of gifts and honoraria, lobbyist disclosure, the statutory rules of conduct for government officials and employees, and campaign contributions to legislators and the governor to harmonize those provisions with the requirements of Amendment 41 to the state constitution.
Legal Investments for Public Funds – HB 1005 by Rep. Dan Pabon (D-Denver) allows counties to invest public funds in securities that have less than two triple-A ratings.
Support for Victims of the Lower North Fork Fire – HB 1361 by Reps. Cheri Gerou (R-Evergreen) and Bob Gardner (R-Colorado Springs) In response to the Lower North Fork Fire, Democrats negotiated with Governor Hickenlooper, Attorney General Suthers and House Republicans to waive the state's sovereign immunity in the case of the Lower North Fork Fire and for other fires caused by controlled burns and provide potential recourse for victims.
Enhancing Our Communities
Stronger Penalty for Hit-and-Run Accidents – HB 1084 by Rep. Rhonda Fields (D-Aurora) makes hit-and-runs a Class 4 felony, which carries the same penalties as driving under the influence of alcohol. The bill closed a loophole that encouraged DUI drivers to leave the scene of an accident.
"Vonnie's Law"; Strengthening Colorado's Stalking Protections – HB 1114 by Rep. Millie Hamner (D-Dillon) strengthens stalking laws by requiring an arrested alleged stalker to go to a bond hearing before a judge and be issued a restraining order before release from jail.
Improving Colorado's Schools
Enhancing K-3 Literacy Education – HB 1238 by Reps. Millie Hamner(D-Dillon)and Tom Massey (R- Poncha Springs) provides better assessments and enhanced early intervention services for students in kindergarten through third grade to help children who are struggling to read.
Effective Educators in Low-Performing Schools – HB 1261 by Rep. Judy Solano (D-Brighton) extends a successful stipend program for board-certified teachers who commit to teaching in low-performing Colorado schools.
2012 Colorado State Budget Highlights
It's a rare event when state legislators can agree on anything this important, but when it came the state budget, HB 1335, the spirit of compromise prevailed in the statehouse.
At the beginning of the session, we thought we would have to use the money from the senior homestead property tax exemption – nearly $100 million worth of tax credits for elderly homeowners–to help close the budget gap. The improving economy not only let us preserve the exemption, it gave us an additional $200 million that we used to cancel most of the cuts that had been proposed for education spending. Do not be fooled though, times are still tough and Colorado's schools still have a long way to go to recover from hundreds of millions in cuts over the past few years.
Democratic Jobs Bills Killed By the GOP
House Democrats introduced various common sense reforms to grow our economy, bring more jobs to Colorado, and assist people in finding work, only to see many of those proposals fail on partisan, party-line votes. Good bills that were killed included:
– An extra $300,000 in funding for the state's network of Small Business Development Centers.
– A Start-up Colorado Technology Transfer Grant Program that would have made it easier for Colorado businesses to bring sophisticated new products and services out of the laboratory and into the market.
– The creation of an ombudsmen position in the The Regulator Navigator Act to help consumers and businesses navigate the regulatory systems within government agencies.
– An advisory board to manage an online economic impact rating system to evaluate vendors of state contract proposals.
– A pilot program that would have provided management and technical assistance to businesses that have advanced beyond the startup phase.
– A prohibition on employer discrimination of the unemployed in job opening advertising.
– A pilot program in which underemployed or undereducated Coloradans might earn a career and technical education certificate in an accelerated program integrating literacy with technical training.
– A $500,000 cap on income tax credits granted to any single claimant in Urban and Rural Enterprise Zones.
– Allowing the Department of Labor to share information with the 200 veterans' organizations in the state to make it easier for these organizations to connect with veterans in search of work.
– A legislative interim committee (summer 2012) to study issues related to small business financing in Colorado.