The gavel came down on Wednesday and brought the 2014 Session of the Colorado General Assembly to a close. I was honored to again serve as the Majority House whip, and am thankful to all of your support for another successful and productive session. After three tries, The General Assembly passed not one but two of my foreclosure reform bills. We strengthened our criminal laws against Human Trafficking and extended protections to victims. One of my bills ensures that pediatric dental benefits be included in plans within and outside of the exchange, another one allows doctors to monitor prescription drug use data to make sure their patients are not getting prescriptions from several doctors or emergency rooms.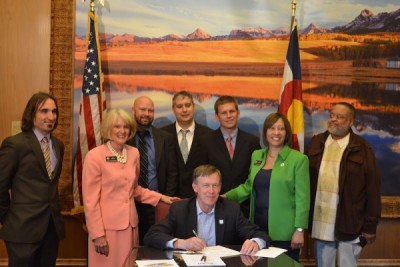 As promised, we delivered a session with little controversy and lots of cooperation and consensus. Governor Hickenlooper's State of the State address last January inspired a non-partisan response to Colorado's devastating floods from last fall. Both sides of the aisle came together and passed several bills to bring relief to those hit the hardest.
We built a stronger education system for a future generation. Three key pieces of legislation that will strengthen our schools and increase access to higher education. And as a strong economy benefits every Coloradan, we joined forces towards that end and passed many bills that will enhance our state's economic security, and to that end we passed many bills that bring opportunity to home grown businesses.
We passed a healthy long bill with good news. The U.S. and Colorado economies improved steadily in 2013 and are healthy for the coming years, which means an extra $1.1 billion to the General Assembly and a $257.5 million surplus to the General Fund for 2014-2015. Of this amount, $30 million will be transferred to the Colorado Water Conservation Board Construction Fund and $170.6 million will be transferred to the State Education Fund.